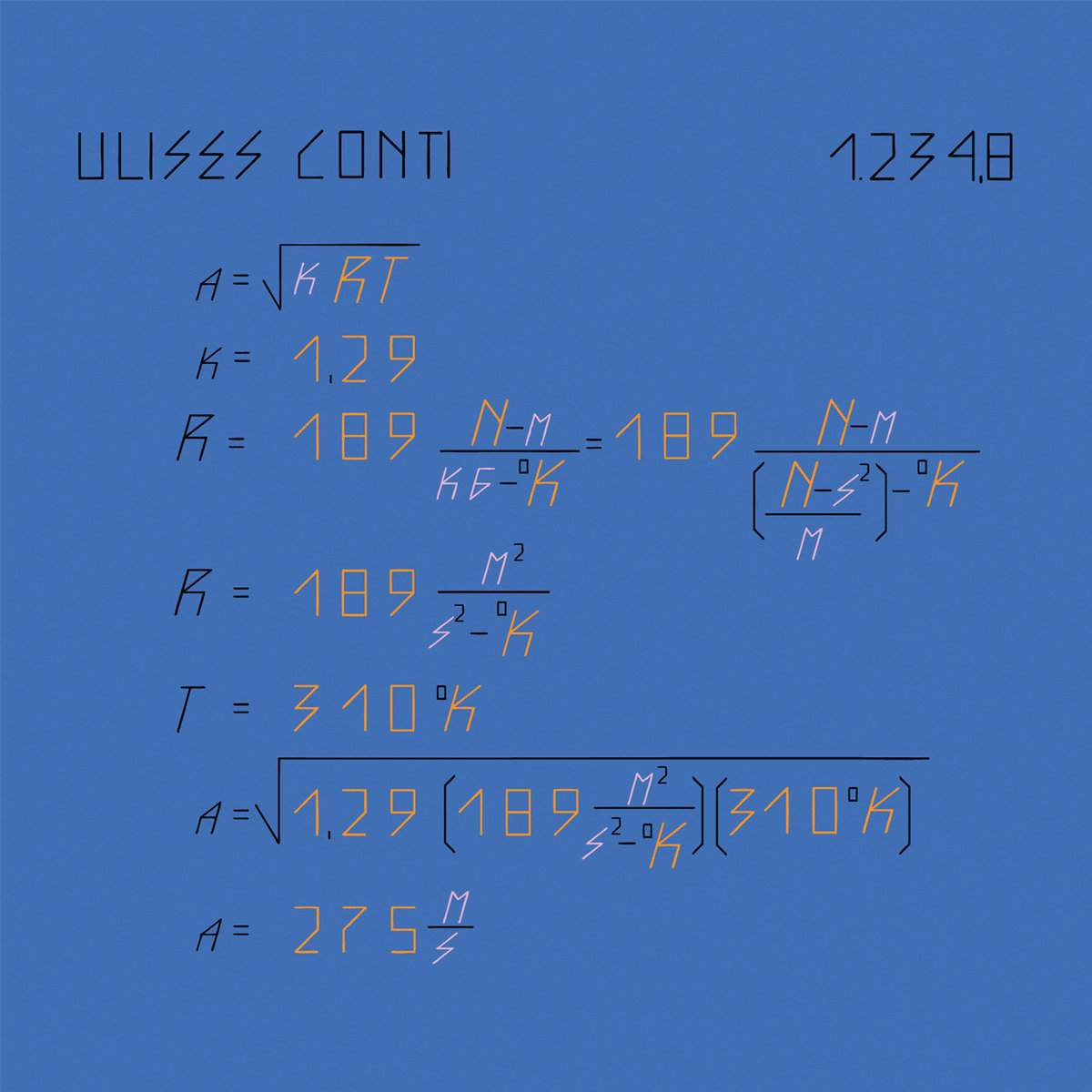 1234,8
1.234,8 it´s an album from the composer Ulises Conti produced by Ismael Pinkler. The album realized in Berlin and Buenos Aires with an extensive list of instruments and analogic and digital equipment, abords sounds and rhythms of different styles: Ambient, Techno, Experimental, IDM.
Though Ulises Conti's discography is characterized for being very different among each album, this one makes focus over some musical spaces that had not been explored in his previous publications. It goes through electronic language with a wide stylistic palette inside a musical challenging territory, where it seems to govern with rigor the idea of not recognizing the composer behind the work.
It's name 1.234,8 refers to the speed in which the sound travels: 1.234,8 kilometres per hour. When a ship overcomes it, it breaks the barrier of sound producing a sonorous phenomenon called sonic boom.
The 10 pieces of this album are numerical fractions which sum gives as final result: 1.234,8. Since on all his previous albums, Ulises Conti proposes a hypnotic and narrative tour that reveals while hearing the tracks. This one is his most risky offer.
Roland TB-303
Roland TR-707
Roland MC-808
Roland Space Echo RE-201 Roland Juno-60
Boss DD-7
Boss Super Shifter PS-5 Korg Moogerfooger Korg Kaossilator II
Korg Microkorg
Korg Mini Kaos Pad
Korg Electribe MX1
Korg SDD-3000
Danelectro DJ-5 Tuna Melt Tremolo Electro Harmonix DRM-32
Arturia MiniBrute
Akai MPC1000
Teenage Engineering OP-1 Teenage Engineering PO-12 Teenage Engineering PO-16 Cluster Tsunami-9
Yamaha DX7
Yamaha Tenori-on
Tascam DR-40
MFB-522
Critter & Guitari Kaleidoloop
Critter & Guitari Bolsa Bass
Casio SA-46
Stylophone S1
FMR Audio RNC 1773
Alesis Microverb 4
Instruments and recording: Ulises Conti, Ismael Pinkler, Diego Lezcano
Voices: Ulises Conti, Loló Gasparini, Diego Lezcano
Studios in Buenos Aires: La Orquesta de cristal, Pinkler Estudios
Studio in Berlin: HAU 2
Mix & mastering: Ismael Pinkler
Art: Mercedes D ́Angelo
Composed by Ulises Conti except 7 & 9 composed by Ulises Conti - Ismael Pinkler
Produced by Ismael Pinkler
Published by Metamusica, 2017